*This post contains affiliate links - I will earn a commission for any purchase you make.
Gone are the days when you could hop into your pickup truck's bed without much effort – nowadays, stock trucks only seem to get higher and higher, therefore doing the same becomes more of a chore than anything.
To make things easy, owners use some sort of ladder to make it possible to get in there, and this can be even more crucial to do if the vehicle is lifted.
Tailgate ladders are made exactly for this reason. They work great for anyone who struggles getting into their truck's bed, or even has a reason for it like older age, injuries.
Anyways, on this article i talk about two of them which i think are the best, although the actual decision really depends on what kind of pickup you have in the first place.
Westin 10-3000
Features
The Westin works on open tailgates that are not higher than 38 inches off the ground. This factor is normally the most important when considering which ladder should you get for your truck, because even if it's just a bit too short, it'll simply not work.
What makes this product unique when compared to the one down below is that it's made from aluminum. Having such piece of equipment exposed out in the elements means it won't be damaged by any form of rust, and that only prolongs its serving time.
The fact that this tailgate ladder folds out from multiple pieces instead of just a single, makes it a lot more sturdy.
It is also backed by a 3-year warranty – in my mind at least, that proves the manufacturer does mean quality about his product.
Another proper feature of any sort of ladder, especially tailgate in this instance, is the quality of rungs. The ones on this are big and grippy, measuring 15 inches wide. Proper rungs will only make you more confident when going up and down.
Once stowed, the folded up ladder can be secured with latches instead of tie down straps – this is only a good thing considering that this method won't produce as much rattle when driving around.
Supports the maximum weight of 300 pounds.
Things to consider before buying
The biggest disadvantage of this ladder is that it's rather short, that is, supports 6 inch shorter tailgates than the option i will mention below.
Pretty expensive. Good tools cost good money, though if you're on a budget, the ladder coming up might be a better choice for you.
In conclusion
If the Westin 10-3000 fits your type of pickup truck, i really don't think there's any other better tailgate ladder (link to Amazon) you can get; otherwise, the alternative below is also a great route.
Traxion 5-100
Features
This ladder differs the most from my favorite pick by the fact that it can work on open tailgates that are up to whopping 6 inches taller, that is, right to 45 inches in total. That means it will fit on even a bigger variety of pickups, especially the lifted type.
Can be easily taken off whenever needed, as it's installed with just a pair of lock pins. There are times when you want to slide something directly into the bed, or simply find the need to have more cargo capacity, so having the ability to easily take the ladder off is a great feature.
The ladder secures to the side of the tailgate, not the middle which means you'll be able to use your truck's bed side as an actual railing when climbing, and that helps you be more stable.
Works on individuals that are up to 300 pounds in weight.
A lot more inexpensive in comparison to the Westin 10-3000; about two times so to be exact.
Things to consider before buying
Won't work on pickups such as RAM with the RamBox system, Chevrolet Avalanche or Cadilac Escalade. Most of the reasons why revolve around the inadequate amount of clearance for the ladder to move properly, considering it can only be fastened on the side of the tailgate, not the front like the first ladder i talked about.
The rungs on this product aren't as wide, neither do they provide as much grip, meaning the thing can be less safe to use. This can be improved though by applying some grip tape if you like.
Because you have to use tie-downs instead of something more reliable when stowing it when not using, that alone can make the thing move around on the tailgate too much.
Made from steel – if you do end up scratching it up bad, that may lead to rust. This isn't really a dealbreaker, because you can always coat it with an anti-rust spray and keep going, although this is still a fact to keep in mind.
In conclusion
I think this ladder made for pickup tailgates will work very well for people who not only have taller trucks, but those who always have the need to slide something inside the bed, or just need to have the option to remove it easily when not needed.
You can find it on Amazon (affiliate link).
Tips and more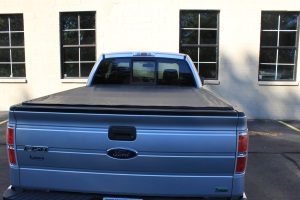 If your truck has a tonneau cover, be sure to mount the ladder you chose in a way to not block its movement. In general before any drilling, try to first position the ladder in the desired place and see whether or not it extends and collapses without any problems.
The main issue with tailgate ladders, when compared to steps, is that they need to be flush with the ground in order to be used – be more aware with the spots you end up stopping your vehicle, as that can save you precious time for finally deploying the thing.
Any of the two ladders could be potentially extended further with a separate piece of metal, though that'll certainly take some work, neither i can guarantee much safety later.
In case that the pickup truck you have has a plastic bed liner on it, chances are there's going to be more steps involved in installing the ladder onto the tailgate. You might even need to cut out the spots where you want to mount the thing if it isn't as flat, or use larger screws to go right through it.