A truck, more often than not at least, is a vehicle made for work – towing stuff with it just can't get any better, if you ask me.
The question today though is, can you actually do the same with a lifted one or not?
Doable, but…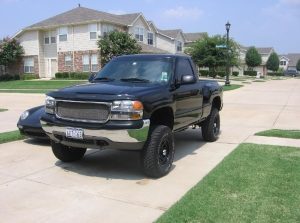 One thing for sure, a truck that has been lifted can definitely still tow majority of trailers you may hook up on it, it's just that you probably won't be able to max out the towing capacity, neither be that much safe while doing so when compared to a stock pickup.
The bigger the lift, the less stable your vehicle will be on the road: breaks, at least the stock version, aren't going to be as snappy, neither the steering. Not to mention, because it's lifted, the wind resistance will be worse, so in general expect the pickup truck to have less power and worse gas mileage.
The power loss can only increase further if you opt for even bigger tires (which is normally always the case for lifted trucks) – all in all, the fact that the truck now ends up being less powerful, you might need to have its gear ratio changed to compensate.
Lastly, a lifted pickup normally is going to have a reduced tow rating. This is the result of the additional weight that comes from the larger tires, the weight of the kit itself and all of its other components, not to mention the different types of hitches you may want to use.
When it comes to towing with a lifted truck, it's all in the drop hitch
If you're going to be bumper pulling trailers with a lifted pickup truck, you have to make sure that the trailer and the vehicle stays as level as possible, and that can only be achieved with a drop hitch.
Essentially it's just a regular hitch that is dropped to a specific level, in order to accustom to your vehicle's increased lift – as example, if your truck is lifted by 4 inches, a 10 inch drop hitch would be required (if you will be towing different size trailers all the time, that is).
The same can be said about gooseneck hitches, as they have to be also adjustable in order to be flush with the truck.
You may also need to invest into a brake controller for what you pull in order to have a more efficient overall braking system, just in case.
Summary
Buying an already lifted truck and towing with it from time to time isn't going to be impossible, i must say.
Though if you do indeed have the unmodified kind and wonder if a lift would hurt the towing efficiency at all, i would suggest staying that way, especially so if you're going to be pulling trailers all the time.