Should you get a bed cover or a tool box for your pickup truck? That is the question that boggles many truck owners' minds, and one I'm willing to answer the best i can on this post.
Tonneau cover pros
Easier to haul anything
A toolbox robs quite a bit of usable payload space on a truck's bed, often times over 1.5 feet in length, depending on the brand.
Obviously the space inside of the actual box can still be used, but considering the fact that it will still shorten your bed's length regardless, hauling longer things like decking can become simply impossible, especially if the pickup's bed is shorter than 6 feet.
Many of the best tonneau covers on the market can be fully unfolded, so not to compromise the needed space when necessary, as example, when loading an ATV or whatnot.
Not to mention, you could consider the cover as one big tool box by itself just by the sheer amount of things you can pack up in there.
Protects against the elements
Removing the snow, fallen leaves or rain that has accumulated in your pickup truck's bed is only a time waste – a cover can make sure any of that isn't happening.
Improves gas mileage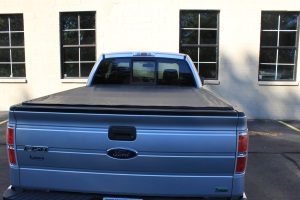 Some truck owners believe this statement is completely false, although there are studies done which clearly state that you can see a reduction of up to 8 percent in fuel use when the bed has a cover on.
Tool box pros
Security at its finest
Truck tool boxes, more often than not, can be locked and are made from stronger materials. Tonneau covers may also be rather secure, though the same aluminum kind is going to be a lot bigger of an investment when compared to a tool box.
Keeps the items stable
The fact that the things inside are contained in a smaller area, they won't move as much when traveling, and that can be important if there's something more fragile in there.
Less work to setup
A tonneau cover typically takes more time to install than a toolbox: the same can be said about taking it out, if you'll ever need to do it.
What should you choose?
If the goal is to keep your valuable equipment as much protected from the potential burglary as possible, you should consider investing your money into a toolbox.
In case that isn't as important to you, in my opinion the decision really boils down to what truck you have. As i already said, installing a tool box on one which has a shorter than 6 foot bed makes it less useful, meaning a tonneau cover would probably be a better deal.
On longer trucks, options like the combination of a tool box and a cover can be applied instead, and that could probably be the choice if you can't decide between the two.
What some owners do instead is alternate between the tool box and a cover depending on the season, which has a lot to do with the weather, i.e., rain or snow.
For those who'll get a bed cover…
A tonneau cover won't keep your items from moving around inside the bed, but you can achieve a lot of stability by using cargo bars.
This can work even better if you end up getting some type of storage trunk where you can keep all your smaller things, as it acts almost like the tool box itself.