*This post contains affiliate links - I will earn a commission for any purchase you make.
A pickup truck, normally the one which is powered only by the rear wheels, can be hard to drive safely once the roads lose grip, as a result of either snow, ice, rain or mud.
In some cases, the vehicle might simply become impossible to operate, like when having a hefty snow plow in the front.
One of the ways you can solve such a dilemma is by placing some sort of weight in the back of the truck.
The good old bags of… sand?
Bags, or really any other container filled with sand have been used to weigh down many types of vehicles for decades, so it shouldn't be a surprise that they will work just as well for trucks.
The reason why it is such a good solution is because it's cheap, easy to handle, and even reusable. If you won't need to keep the sand forever, you can always find a way to get rid of it, like by giving it away to your neighbor or find uses for in your own household.
It is hard to tell exactly how many of them should you use on your particular pickup truck, but going for something like five 60 pound bags should do the trick.
Again, because they're relatively simple to move around, trying out different quantities can work better in your situation.
Leaving the bags of sand as they are inside the pickup's bed isn't a really great idea, as they will start to shift back and forth eventually, which can lead to them ripping.
Building a wooden enclosure around the wheel wells will prevent that from happening.
Many of the ideas I share can become a potentially life-threatening projectile during a collision, so please be mindful.
Alternatives
Filling up the bed with…
Sand
In case you don't care about losing most of your pickup's bed storage capacity, dumping a whole bunch of pure sand instead can prove to be the ultimate way to weigh down the thing.
The snow itself
You'd be surprised to find out how much snow can be packed up in the bed of a truck, and how heavy it gets.
Waiting for the actual snowfall to do the job probably won't work, so the best thing you can do is source it out of your own driveway, or others'.
Get a weight bag
There are specifically designed bags being sold which are filled with nothing more than water, and provide hundreds of pounds of weight in a pinch.
This is an Amazon website link for what i'm talking about (there is also an option for smaller sized pickups).
Tool box
Many owners already own such an accessory, so why not use one for the purpose this article is about?
A tool box can be filled with just about anything to provide the much needed weight, such as things you might already have like power tools, equipment – the added benefit to this is that nothing will be able to come out on its own.
Other things to keep in mind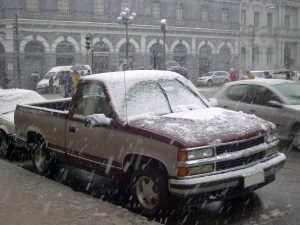 More traction is great and all that, but adding more weight to the already heavy truck will make it slurp even more fuel.
Before considering weighing down the back, think about the tires. Having proper set of tires for the right weather can make all the difference, which in turn could prevent the need to add any weight in the first place.