If you are an outdoors kind of person, utilizing the truck bed space for all your stuff is crucial.
Taking everything out just so you can sleep there for the night is tedious and time consuming, which is why many consider mounting a roof top tent up top.
One thing for sure is that normally a tent of this nature has to rest on some sort of ladder rack, but what about doing the same only on a camper shell? Can it support the weight of the tent with you there or more people?
Possible, however
If or not will your type of truck cap handle this sort of weight entirely depends on its static load capacity.
Finding this sort of information can be tricky depending on the brand, but it is best to check the product's information on its website, if possible.
If you cannot find anything regarding this topic there, chances are the manufacturer does not recommend you to place a roof top tent, or really anything heavier for that matter, on that cap.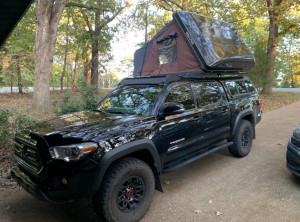 But everything is not lost, as long as you are keen on doing some modifications.
Reinforcing the camper shell
In case you want to try out your luck and see if the cap indeed can support the load you want to put there, i would highly suggest reinforcing the structure first.
The main way to do so is by welding an inner frame that prevents it from spreading. The cage can rest on the rails, be bolted to the bed itself, it's just that the goal here is to give the camper shell more top wide support.
The images here should give you an idea of what i am talking about.
Get a proper topper instead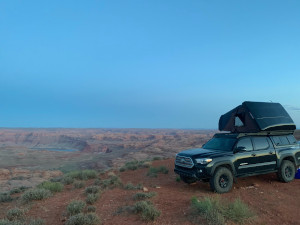 Instead of trying to make the thing not collapse when you are sleeping up there, consider purchasing a camper shell that's made with durability in mind.
Some manufacturers make them exactly for this reason, or in short, they are able to withstand weight capacities of up to 500 pounds or more, which is more than enough if you ask me. The SnugTop caps with the Sportsman package is one example.
A cheaper solution to this is installing a ladder rack that can work in conjunction with the topper. It acts exactly, if not better than any other rack you would want to put up there, though in this instance it doesn't rest on the actual cap itself – all of the load sits on the bed sides.
Many of these racks can handle loads of 1000 pounds or more, and that's more than enough for a roof top tent with even three people.
In summary
To be honest, there a lot of owners who mount the RTT's on the most standard, common shells you can find on the market, and never get into any issues in regards to them breaking in one way or the other.
Having said that, there are also those who do indeed go for it and crack them up in just one night.
Maybe it's the weight, perhaps the specific camper shell, but one thing for sure, if you want to reduce the likelihood of that happening, you have to make sure to at least strengthen the build, or buy a suitable cap to begin with.