*This post contains affiliate links - I will earn a commission for any purchase you make.
Cargo bars are essentially easier to use alternatives to ratchet straps, or really any sort of specific tie-downs for the stuff you want to haul in your pickup truck's bed.
There are quite a bit of them on the market, and so on this article, I review 4 of the best, at least in my opinion.
Heininger 4016
Features
The full-size version of this cargo bar can expand from 59 inches way up to 73. That means it will work on even the largest of the truck beds, like ones on the RAM 2500, Ford F-250 and such.
It weighs right around 9 pounds, which is rather hefty; as a matter of fact, it's the heaviest one on this article. The reason why it weighs more is that it's built to support even the bulkiest of the cargo, like job equipment such as generators, power tools.
Things to consider before buying
The Heininger can simply be too long for some truck beds, even if you opt for the compact version which can only adjust from 50 inches, so if that's too big for you, consider going for the next alternative down below.
The solid build quality is definitely great and all, but considering that it weighs 9 pounds, it'll be more awkward to setup than the lighter choices.
Is the most expensive product here.
In conclusion
If you want to get the best cargo bar which will contain majority of the things you might put in your pickup's bed, look no further than the Heininger 4016 you can get on Amazon.
Keeper 05059
Features
What makes this accessory different from my favorite pick is that it can ratchet from 40 to 70 inches. This means not only can it support pickup truck beds of smaller width, but also in a bigger variety, although obviously not the largest ones.
The item weighs 6.6 pounds – the lower the weight the easier it is to secure to the truck.
Generally cheaper than the first option.
Things to consider before buying
Now because it's not as heavy, there's less material used in the product, which means it's not as suitable in securing larger things in place.
Personally, I would only suggest using this, and really any other cargo bar I'll mention below, on lighter items like groceries, gas cans, sports equipment. Having weightier things banging around can make it fail.
Doesn't accommodate the largest truck boxes like the very first option.
In conclusion
This cargo bar (Amazon link) is great for people who just want to keep their lighter things in place, and it doesn't break the bank too.
Keeper 05056
Features
This unit is unique in comparison to every other one I review here because it tightens by a screwing motion, which is generally easier to do than the ratcheting. It's also a lot safer for you as there is really no possibility to catch your fingers on anything.
It opens from 45 to 70 inches, meaning the maximum range is just about 5 inches shorter than the product above.
Only weighs 3 pounds! That is right around three times lighter than the Heininger cargo bar, and let me tell you that because of that it's only going to be easier to handle and set in place.
Things to consider before buying
The fact that this bar needs twisting in order to be secured means it'll be slower to do so properly.
Once again, less weight of the item makes it less tough, so don't consider using it to contain heavier stuff down.
In conclusion
In case you want the easiest solution when it comes down to cargo bars, well, there's really nothing better than this.
You can purchase it on Amazon (affiliate link).
Reese Explore 1390600
Features
This bar features the common 40 to 70-inch reach adjustment, which should be enough for most of the pickup beds out there.
The total item weight is 3.7 pounds, making it the second lightest on this list.
Least expensive cargo bar here.
Things to consider before buying
The tool is light, but because of it more fragile. I don't think you can use it to secure anything heftier than some of the more basic things you might use in your day to day activities.
Not the largest.
In conclusion
The load bar (Amazon link) will work for a lot of pickup truck owners out there, especially the ones who want to save the most amount of money.
General tips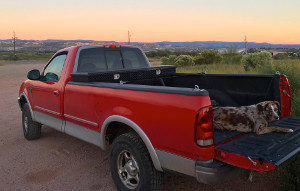 The ratcheting cargo bars have some power behind them, so be careful to not overtighten which can lead to the liner of the bed bending.
Consider purchasing two cargo bars instead of just one as it will allow you to divide your bed even further, and that can only help keep things in place better.
A cargo bar won't prevent the load from shifting from side to side, and if you feel you need that, get a divider bar.
Most of the cargo bars are more or less resistant to the weather, but if you leave one out attached to the bed permanently it can still rust.
Mark the spots which you think are the best for installing the bars, so it'll be quicker and faster to do in the future.
Don't forget to grease the thing every now and then to keep it working nicely for years to come.
Feel free to use the cargo bar not only on a truck, but just about any vehicle that needs its load to be in place.