*This post contains affiliate links - I will earn a commission for any purchase you make.
A truck bed that is covered with a tonneau sure is beneficial, though at the same time this accessory comes with significant negatives as well.
One of them, which is what this article is about, is hauling stuff inside the bed, particularly so bicycles; you won't be able to just slap them in there and go, right?
I mean, not unless you can actually roll or fold out the thing, but who wants to do that, considering that the cover will be useless at that point?
Long story short, there are things you can do to mount your bikes over the tonneau, and by that i mean install a rack on top, in one way or the other.
Depends on what kind of cover you have
Whether or not you can install a bicycle rack over your kind of tonneau has all to do with what type of tonneau it is.
The easiest route to go about it is to install crossbars on the bed, and run the actual bike racks right through it.
But here's the catch – the bed rails have to be unobstructed for this to work. What this means is that if you have a tonneau cover that goes over the bed rails, the simplest solution won't apply to your pickup truck and you'll have to do more advanced things.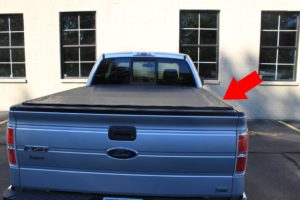 Again, it really does depend on what you have – some roll-up covers sit on top of there, others don't; the same can be said about the folding type, tri-fold tonneaus out there.
Get a pair of tracks
To begin with, we have to install a track system on both of the bed rail tops. I suggest going for the well know Yakima brand – this 54 inch option (Amazon link) will work perfectly.
To install them, all you really have to do is drill some pilot holes, fasten the PlusNuts in there, put the tracks over and bolt down, that's it.
The tracks are only 4.5 feet long, so don't expect them to cover the truck's rails from the beginning to end, though you can cut them to shorter length, if that's necessary.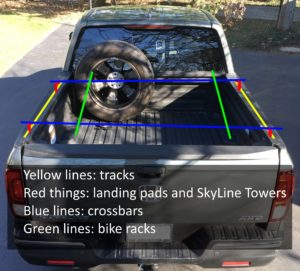 Additional components
Once that is done, there are still quite a selection of components to purchase to finish the whole deal.
For the tracks i recommended, you have to also get this (two orders, in other words, four pairs of) Landing Pads and a single order of SkyLine towers.
As soon as you assemble everything (with the help of instructions, that is), frankly you're still not done.
What you need next, and these are actually the most crucial components, are the crossbars, parts on which you are going to be able to mount the bicycle racks themselves.
There is definitely a choice to be made here, but i suggest going for the simplest route and getting the classic pair of RoundBars (Amazon affiliate website link).
You won't be able to mount them on the Skyline towers as they are, so don't forget to also get an order of SL adapters.
---
It is done – the platform on which the actual bike racks will be installed on is made, now the only thing left is to get the actual bike mounts.
If you still want to keep the consistent flow of quality parts in your build, the same Yakima brand FrontLoader racks will work wonderfully.
What about alternative methods?
Not every owner will want to spend over 500 dollars just to be able to install a platform on which the bicycles could rest (this is not including the price of the bike racks themselves).
The great thing is that there are actually a lot of ways you can go around it, and save more.
Build the racks yourself
Even though this method is certainly the second best in my mind, it may also not work for everybody:
You will not be able to install the aluminum tubing along the rails the same way if your truck doesn't have the stake pocket holes.
Some pickups have them in the back, but don't in the front. There are those who don't have any of them, at all.
If you are willing to drill the tubing right through into the bed rails, sure this isn't much of a problem, but as always, there are those who prefer not to.
Another issue about this build is that you won't be able to easily move the crossbars back and forth, like the Yakima solution.
That's all because the bars are permanently mounted in place – sure, drilling more holes and creating additional points will work as well, but not being able to adjust them in a pinch is a bit of a bummer; especially so if you'll want to haul more than just bikes with the rack.
Ideas for those who have solid tonneau covers
If you feel like the cover you have on the bed of your pickup is sturdy enough, why not try mounting the bicycles on top of there instead, particularly so if it also blocks the access to bed rails (hence preventing going for the main method)?
Don't get me wrong, if the pickup truck does have a flimsy roll-up tonneau, chances are it can rip with any load that's on top. Now if it is indeed a solid folding cover, it may just easily deal with the load of a single or multiple bicycles.
Drill right into
The simplest way you can go about this is by installing mounts, that is, fork mounts which require front wheel removal, straight into the tonneau cover.
Will you want to make holes in your potentially very expensive tonneau? I'll leave that question to you, but this is still a method that's used by those who want to get it done.
The crucial thing to not forget to add is additional bracing under the cover, so the mounts wouldn't rip out when hauling. That can be done with aluminum tubing.
This forum post on Tacoma World shows you how to get it done.
---
If, by any means, your vehicle happens to have a solid, hinged one piece tonneau cover, well, you can do a lot more with it.
And by that i mean literally bolting a track and doing the same Yakima setup i discussed first, as you won't be able to access the rails either way.
Utilize the stake pockets
In case the pickup truck you have also has stake pocket holes in the front, you can use them to support a bar on which you'll be able to fasten the mounts to, and that won't require any drilling into the actual truck!
The idea is similar to the video i showcased above, it's just that the aluminum tube will need to be installed horizontally alongside the cab.
Other methods of hauling bikes with a truck
Again, you may not even want to start with building out a base that can cost close to a 1,000$ just so you could transport your bikes, and this fact alone may make you consider other possibilities out there.
One of them is using the hitch. I know, i know this is an obvious or simply impossible solution if you pull a trailer, although why wouldn't you want to go for it if it is indeed a possibility?
You can get a quality hitch rack for a lot cheaper than the whole setup of the main method this post is around.
The second, though less common approach is doing the same but in the front of the pickup. I have written a whole article regarding this topic, so check it out here.
May want to get the right cover to begin with
Buying a completely brand new tonneau cover that's made for hauling bikes when you already have one doesn't make that much sense, unless you actually don't have it.
Pace Edwards UltraGroove covers come built-in with the track system, making it that much less of a struggle to get the whole bike rack system up and running, as it does not need any drilling whatsoever.